Day 6 -- Traismauer to Vienna
It was another perfect day as we left the hotel in Traismauer for our last day. We congratulated ourselves on the great weather. Barring a sudden storm, it would be the only trip we had taken in which we never had to don rain gear. Good to have it anyway, of course.
At breakfast we had plotted the journey. The only purpose was to get to Vienna -- head down and bike. There were a lot of miles between us and Vienna. I thought between 45 and 50. The guide book didn't have anything particularly good to say about the attractions for this day, and we wanted to get to Vienna early enough to sightsee before dark.
We poured over a map of Vienna, spotting the location of our hotel and planning the best approach on bike into the city. Biking into any big city can be treacherous, and we wanted the easiest path possible. Len suggested that we approach from the north bank of the river and then cut across to the island that separated the Danube and the canal that went through the heart of Vienna. We could bike down the island, and it looked like a little bridge could take us right across to our hotel. On paper it looked good. In reality it turned out to be even better.
Leaving Traismauer we headed north back to regain the Danube path. Shortly afterwards, the path left the river bank and headed inland. This always made for a good change of pace, and we welcomed it. Here we are crossing a pretty little stream.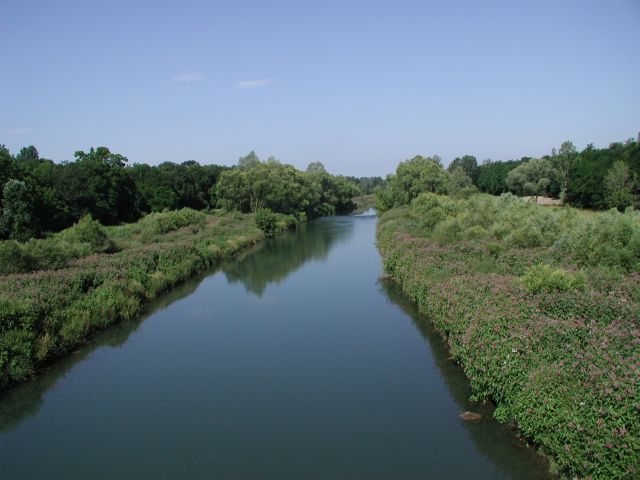 Crossing an inland stream
The picture below gives some feeling for the type of path we sometimes encountered on the inland portions of the Danube path.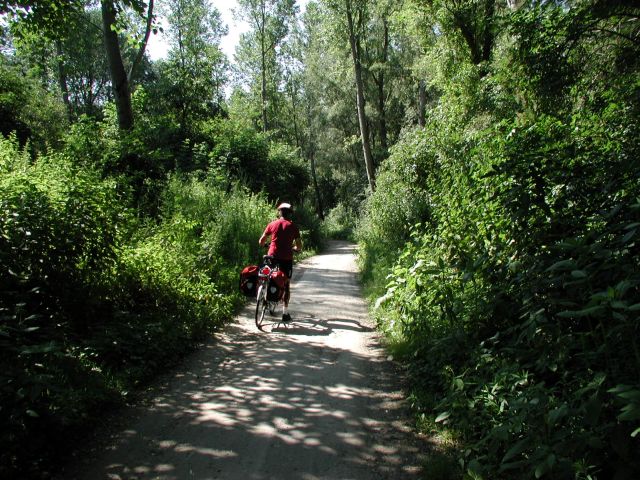 Through the woods
For some miles we biked through fragrant farm country. We kept telling each other that the corn had grown a foot during the week we had been biking. Maybe it had; it sure looked like it. Here's some wheat and sunflower fields that we passed.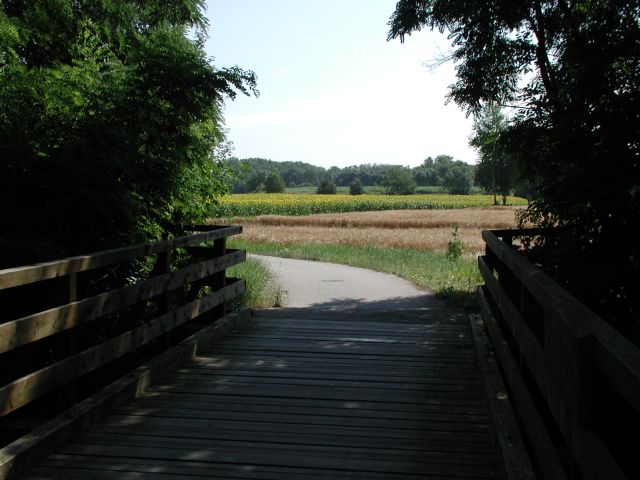 Fields of wheat and sunflowers
We approached Tulln, the middle point of the day's biking. The path here was beautifully lined with trees. It gave us a good feeling for Tulln even before we got there.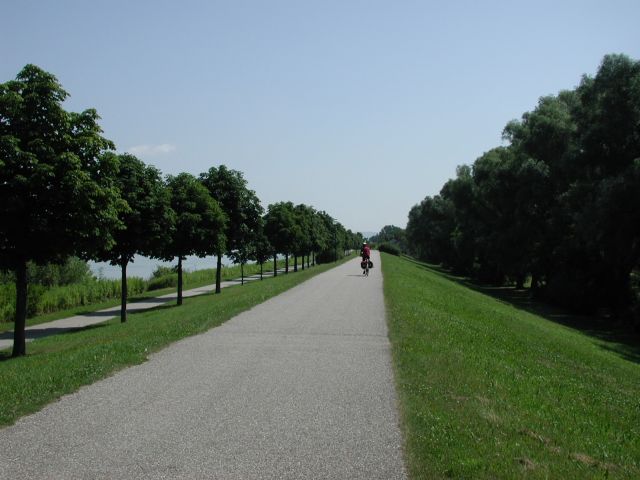 Approaching Tulln
Along the river in Tulln there were many beautiful flowers, and I was impressed with a floating stage in the river. There were stadium-like seats facing the stage and the river.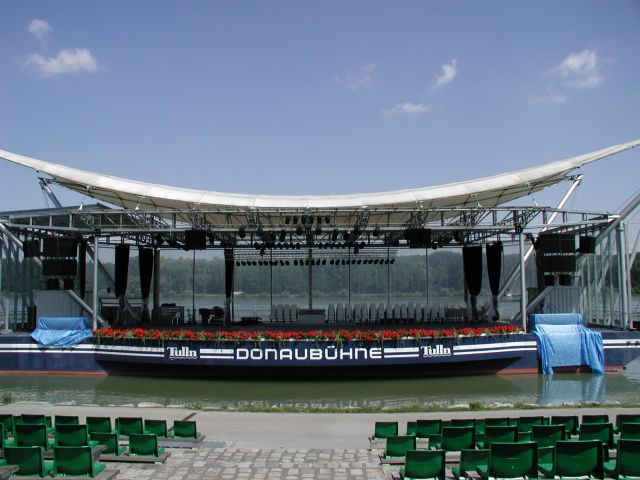 Floating stage in Tulln
We left the path to visit Tulln, walking down the main street and finding a small grocery store where we bought lunch. This time, to be different, we both bought delicious-looking apple strudels.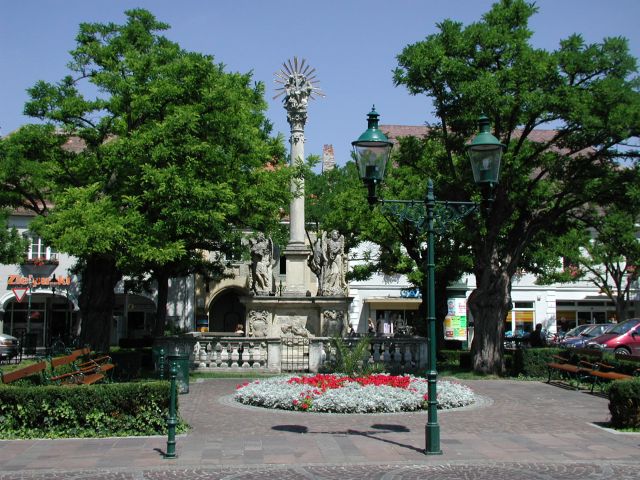 Tulln Centrum
At Tulln we crossed on the bridge to the north bank of the Danube, getting into our landing pattern for Vienna.
Crossing the bridge at Tulln
On the other side of the river we stopped for lunch at a bench along the river. Swans were waiting for us. This, obviously, was their bench, and they had first call on anything we gave them. I threw them some of my sandwich, but they didn't seem interested. I guess they were well fed.
Swans watch as we eat lunch
Shortly after this we stopped to answer the call of nature. Actually, that was never easy on the Danube path. There are too many bikers for privacy lasting any longer than a couple of minutes. But this time we didn't even get a couple of minutes. Ants immediately attacked us, running up our shoes and legs. Run! Forget what we were doing!
Along here, too, we began to see nude sunbathers. They were women alone, bronzed and looking like amazons, staring seriously out into the river as we passed.
The path here had a rocky shoulder. Len warned me not to veer too much towards the river. It looked like good advice.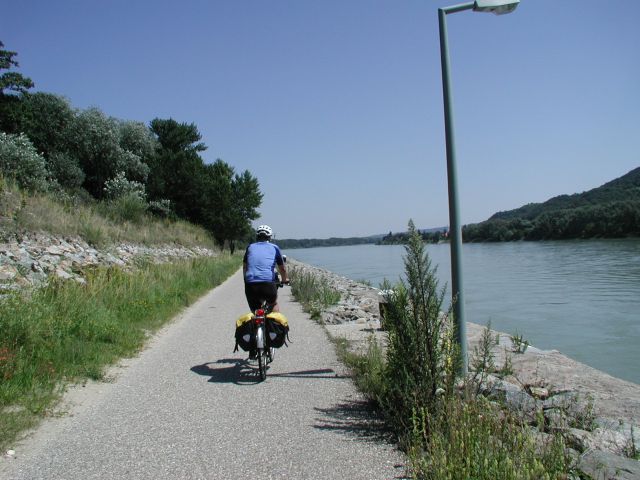 The rock-edged path near Vienna
The path got progressively less country and farm-like as we approached metropolitan Vienna. Now we could see the tall buildings in the distance. Soon we were able to cross a small bridge onto the beginnings of the island that separated the Danube from the canal.
We biked down the center island, passing pedestrians and roller-bladers as the tall buildings got closer and closer. No cars were allowed here. It was great!
The cycle path down the island towards Vienna
It was a glorious day. Now it was probably about 90 degrees F, and there wasn't a cloud in the sky. It seemed as if all Vienna was out getting the sunshine. They'd had a bad summer, with constant rain, and this was their big day. All along the path and the river we saw sunbathers.
Sunbathers line the far shore in Vienna
Of course, there were many, many sunbathers on the island too, but many of them were nude, and I hesitated to take a picture. You'll have to settle for this long view across the river. At one point a nude man sauntered past us on the bike path, oblivious to us and everything else. Then Len stopped to input the address of our hotel in his GPS. He had stopped right next to a beautiful young girl lying nude beside the path. He seemed to be taking his time about setting the GPS.
The island run on this path was exhilerating today. The whole world was alive and festive. At each bridge we'd pause and ask ourselves: is this the right bridge for our hotel? Fortunately, Len had the "go-to" programmed on his GPS, so we'd look at the arrow. Was it pointing mostly ahead, or mostly towards the bridge? Finally, we found a bridge that the GPS seemed to like -- a small pedestrian/bike bridge across to the north bank of the canal.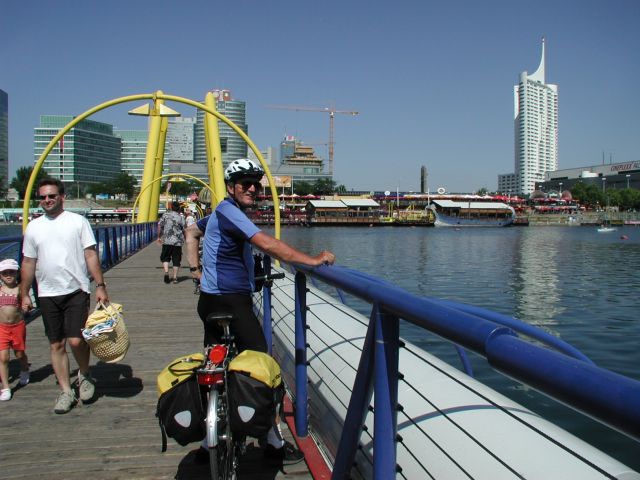 Crossing the bike bridge into the center of Vienna
Our hotel was near the far side of this bridge in the modern section of Vienna. And it was. There were some confusing ramps between large buildings, and we were coming down one of these ramps when I heard Len let out a yell. I had no idea why he was yelling, and the next thing I knew, I heard myself yelling. The ramp we had been riding down was actually a staircase, but there was an optical illusion that it was smooth. So we were bumping down these steps like out of some movie chase scene. At the bottom we suddenly saw our hotel across the street -- the Country Inn -- and the end point of our bike trip.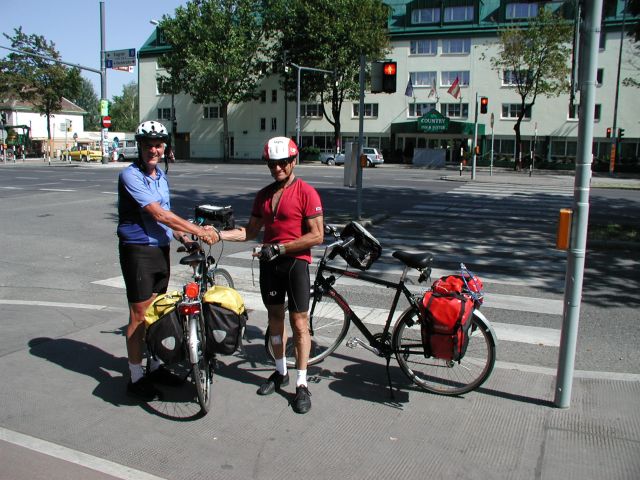 We arrive at the Country Inn in Vienna -- the end of our trip
It was kind of bittersweet, removing our equipment from the bikes and leaving them in the hotel garage. It would be good to be going home, but I would miss the biking and the adventure.
In the hotel the reception clerk was from San Diego. He told us how to go to the center of old Vienna by taking the subway. We remembered that our information packet had two subway tickets, so we used them to go to St. Stephan's square.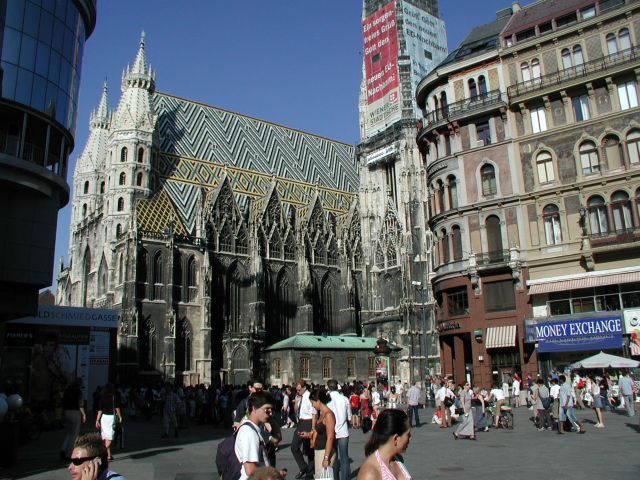 St. Stephan's Square -- the heart of old Vienna
We walked for a couple of hours in Vienna, getting a feel for the city. I would have liked to have visited the museums, but of course they were closed. I did get Len to take this special picture of me in a park outside one of Vienna's museums.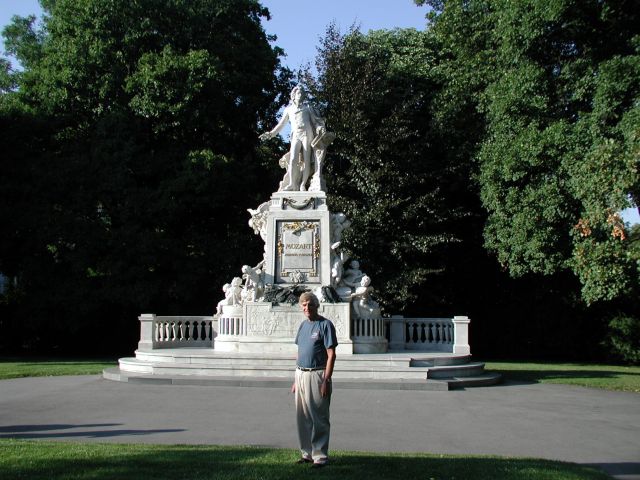 Mozart and me
This was special because I had worked almost all year on playing a Mozart piano concerto, and had just made a recording of it with the Music Minus One CD. It's ok, but I'm just an amateur. Mozart was, on the other hand, a genius.
We looked for a great restaurant for our final meal. We didn't seem to be able to find one. Finally, Len asked a well-dressed woman where we could find a good restaurant.
"Well, I can't really recommend one," she said. "If you have booked a table at a good restaurant, then you are welcome. But if you haven't, then you're not welcome. And these cafes that you see are only good for snacks and for tourists. I'm sorry."
So we ate at an outdoor cafe associated with a hotel. It was Italian, which didn't seem right for our last Austrian meal, but it was late and we were hungry. So we had Italian food, cooked in Austrian style. It was ok.
Thus ended our trip. On this last day we had biked 44.1 miles. Overall, the trip had been 230 miles. It was a great adventure, and I hope that some of you reading this web site will have the opportunity to take the Danube path.
Back to the Danube overview page
Back to Bob Lucky's main biking page